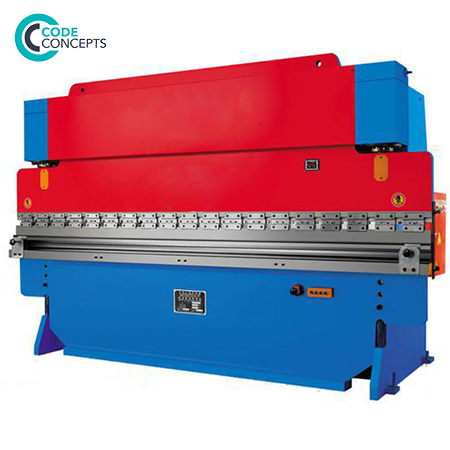 70 No load
8 work
60 return
70 No load
8 work
60 return
70 No load
8 work
60 return
70 No load
8 work
60 return
Model WC67Y 200T/3200,300T/4000
60 No load
8 work
50 return
60 No load
6 work
50 return
1. Frame part:
WC67Y Series hydraulic press brake machine adopts hydraulic driven, frame part includes ram, cylinder and mechanical chock block micro-metric setting. The length of ram travel can be regulated arbitrarily, if the bent workpiece unnecessary with too long travel, will adjust travel by mechanical chock block, thus higher work efficiency obvious. The left and right cylinders are fixed upon the frame, let piston to driven ram lift up and down by the hydraulic system.
2. Worktable part:
Installed four compensation cylinder in vertical sheet plate of the worktable, can to reach better press brake performance. To control worktable by the button in the front of the worktable, let motor-driven stock frame-level move, and logical display the movement, installed position switches at the front and back limit stations.
3. Slider part:
Slider part is composed of the slider, cylinder and mechanical block fine-tuning device. It adopts overall panel structure, left and the right cylinder is fixed on the machine frame, through a hydraulic piston (rod) driven slider doing up and down movement.
4. Synchronous system:
The synchronous construction of this device composed of twist shaft, swing beam, this structure is simple, performance is reliable and steady, synchronous accuracy is high.
5. Back gauge Device:
Manipulated by the button box before the working table, make the motor-driven gauge frame moving, and has moving distance digital display, the minimum reading of 0.10 mm. Front and back position both have stroke limit switch.
6. Accuracy compensation mechanism:
The fine-tuning mechanism is installed on the upper mould, used for up and down compensation fine-tuning, in order to guarantee the bending accuracy. Sometimes, when bending, the angle degree in the total length has a slight deviation, in order to get the consistency of the bending angle degree, you can loose the screw, move the Oblique block, then doing fine-tuning on the upper mould, then tighten the screw, re-bending till meet your requirement.
7. Electric System:
Main Power supply: 380V, 50Hz, three-phase,
Control power supply: 220V 24V.
The main circuit and the motors are using automatic switching circuit and overload protection. The control loop sections are using the short-circuit protection fuse. The main mechanical components are grounded.
The machine has three ways of working, by the universal switch SA3 to select jog, single, continuous.
Machine operation is controlled by a footswitch, convenient and fast.
Electric components are the Siemens brand.
The line is simple, safe and easy to maintenance.
8. Hydraulic System:
The hydraulic system consists of a motor, axial piston pump, valve, fuel tank, fuel lines and hydraulic accessories.
The maximum working pressure of the hydraulic system is 25MPa, set through the main loop system valve.
Enquire with us in Whatsapp