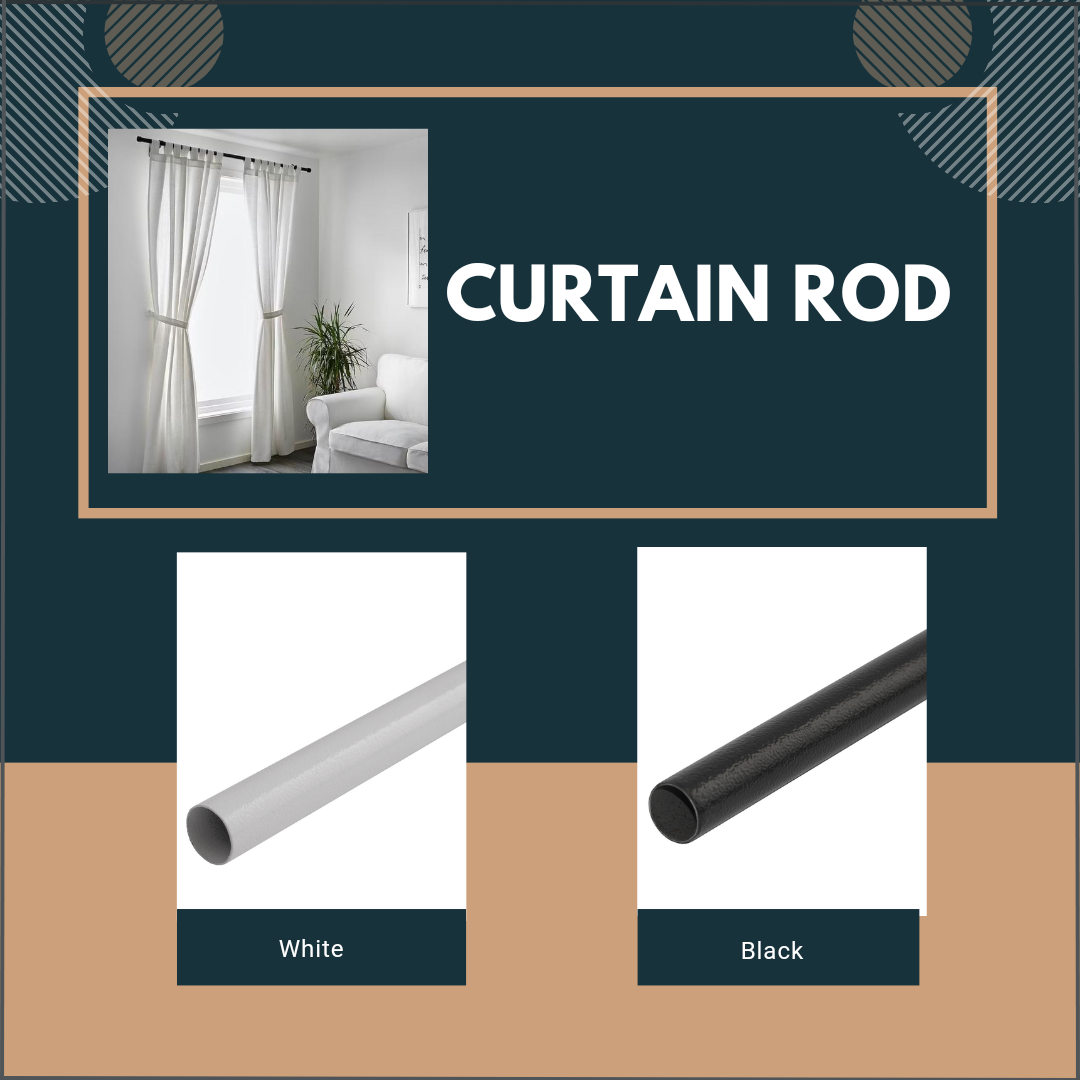 Curtain rod is a long metal rod, where you can hang curtains. They are fitted 2 inch above the windows and french windows. You can get good breeze through the window when it is kept opened. We can help you with our curtain rod that has below features.
DESCRIPTION
Our curtain rods are made up of Metal Steel.
Durable and powder coated with neat finish, glossy look
It will suit all types of windows and doors.
Our curtain rods comes in different sizes of 16mm, 25mm and 32mm and two different colours Black and White. If you want you can also shorten the size of the Curtain Rod.
You can easily fix and remove the rod. Easy to clean.
We also have finials and brackets with different sizes and different colours.
CURTAIN ROD SPECIFICATION
| SIZE | COLOURS |   |
| --- | --- | --- |
| 16mm x 1.5m | - | White |
| 16mm x 2.0m | Black | White |
| 16mm x 2.5m | Black | White |
| 16mm x 3.0m | Black | White |
| 25mm x 2.0m | Black | White |
| 25mm x 3.0m | Black | White |
| MODEL | SIZE |
| --- | --- |
| 1615WCR | 16mm x 1.5m |
| 1620WCR | 16mm x 2.0m |
| 1625WCR | 16mm x 2.5m |
| 1630WCR | 16mm x 3.0m |
| 2520WCR | 25mm x 2.0m |
| 2530WCR | 25mm x 3.0m |
| MODEL | SIZE |
| --- | --- |
| 1620BCR | 16mm x 2.0m |
| 1630BCR | 16mm x 3.0m |
| 2520BCR | 25mm x 2.0m |
| 2530BCR | 25mm x 3.0m |
| 3230BCR | 32mm x 3.0m |
Enquire with us in Whatsapp