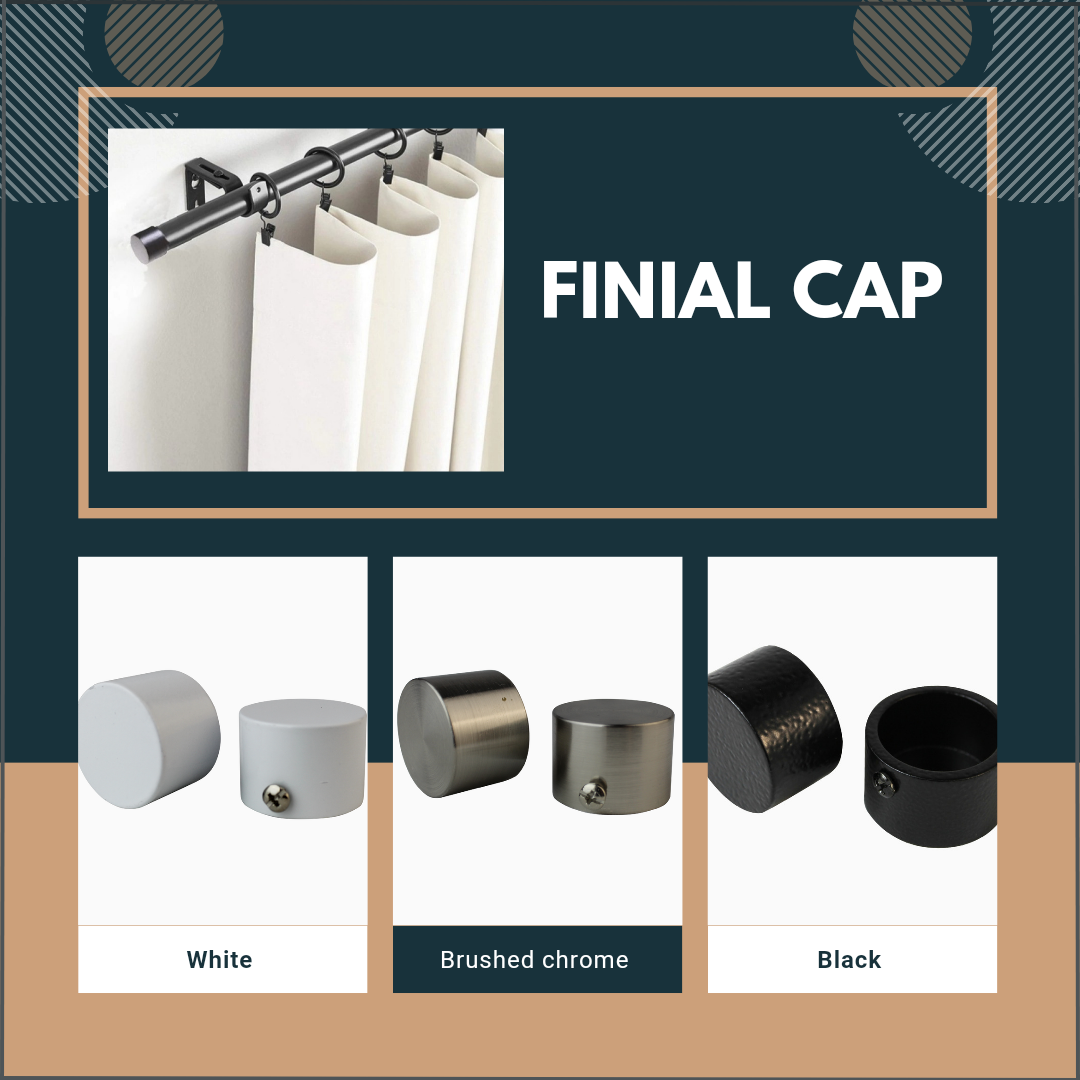 Curtain Rod Finial caps are another type of decorative end piece that can be used at the ends of the curtain rods. They provide a complete and simple look to the curtain rod. We have finial caps with different sizes and colors.  
Curtain rod finial caps are the metal caps that are fitted at the end of the curtain rod gives a finishing look to the rod.
DESCRIPTION
Our curtain finial caps are made up of Aluminium.
Easy to clean, easy to fix at the end of the curtain rods
It will suit all types of curtain rods and we have 16mm, 25mm and 32mm diameter of length 1.5 m(metre), 2.0 m,2.5m and 3.0m
Our finial cap pack contains a pair of cap and screws.
We have finial caps in three different colours which are mentioned below table. Have a look at it and we can assist you.
We also have finial balls, curtain brackets, curtain stirrup brackets and curtain rods that can fit your house hold giving a decorative look.
CURTAIN ROD SPECIFICATION
| MODEL | SIZE | COLOUR |
| --- | --- | --- |
| 16FCW | 16mm | White |
| 25FCW | 25mm | White |
| 16FCB | 16mm | Black |
| 25FCB | 25mm | Black |
| 32FCB | 32mm | Black |
| 16FCBC | 16mm | Brushed Chrome |
| 25FCBC | 25mm | Brushed Chrome |
| 32FCBC | 32mm | Brushed Chrome |
Enquire with us in Whatsapp